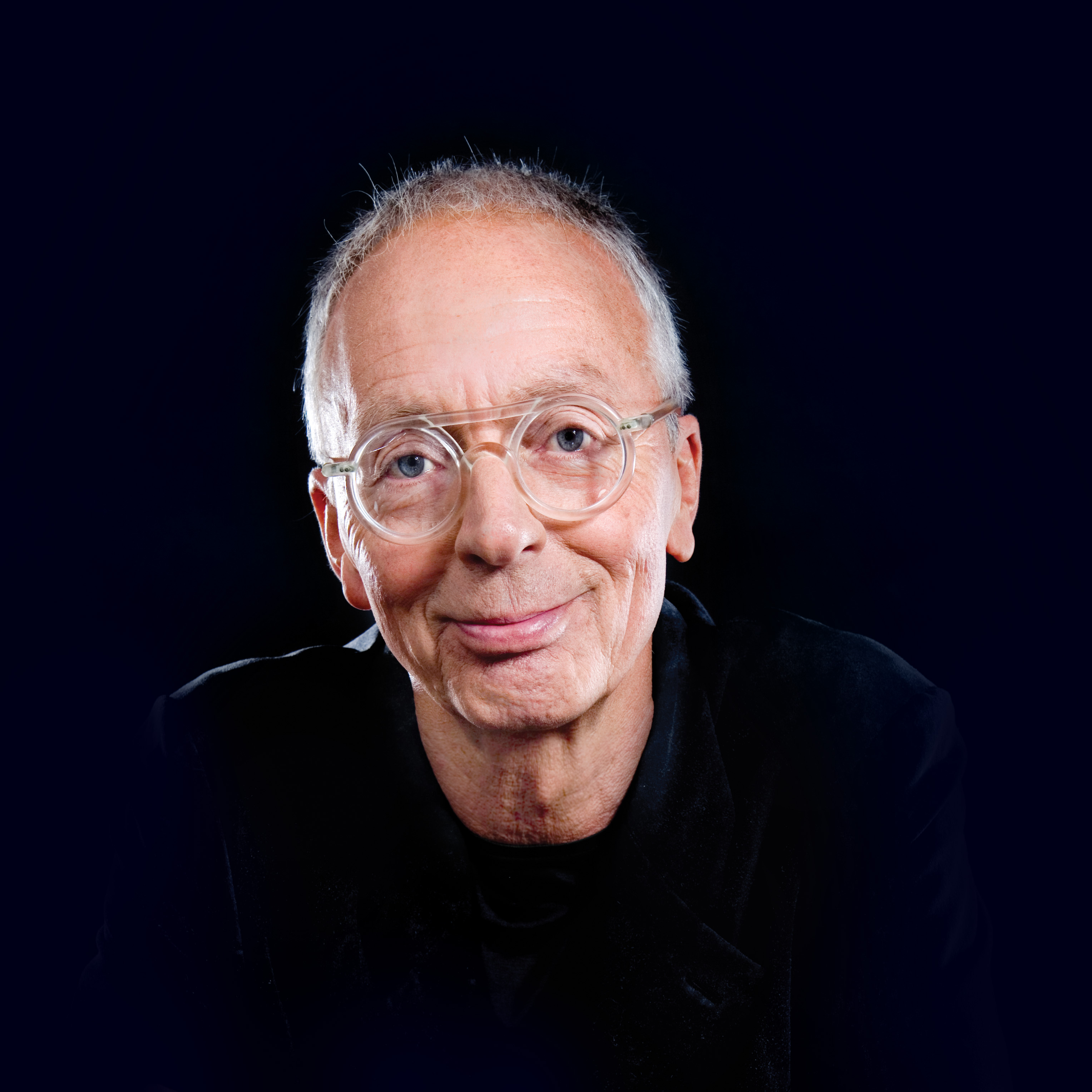 about Gijs Bakker
Tuesday March 22nd 2022
Gijs Bakker (Amersfoort, The Netherlands, 1942) was trained as a jewelry and industrial designer at the Gerrit Rietveld Academie in Amsterdam, the Netherlands and the Konstfackskolan in Stockholm, Sweden.

His designs cover jewelry, home accessories and household appliances, furniture, interiors, public spaces and exhibitions. He worked and works for numerous companies, including Polaroid, Artifort, Droog Design, Castelijn, HEMA, Royal VKB, ENO Studio and recently as creative director for Yii, Taiwan.

Bakker taught at various schools, among which the ArtEZ Institute of the Arts in Arnhem, Delft University of Technology, and the Design Academy Eindhoven where he worked from 1987 until 2012 (since 2000 as Head of the Masters Programme). In 2016, Bakker joined as member of the Dutch Society of Arts (Akademie van Kunsten).

In 1993, Bakker co-founded Droog Design, a Dutch collective of designers, products and information. Together with Renny Ramakers, he was the selector and art director of all products within Droog Design until 2009.

In 1996, Bakker co-founded Chi ha paura…? (Italian for Who's afraid of…?). With chp…?, the new brand name since 2013, they wanted to show the international design world that a piece of jewelry is more than a decorative fashion accessory. chp…? invites internationally acclaimed designers to create a special piece for the collection.

Gijs Bakker travels around the world to give workshops and lectures about his own work, Droog Design, chp…?, Yii /HAN gallery and is frequently a member of juries. His work is represented in both public and private collections worldwide. In 2018, Bakker received the royal distinction of Ridder in de Orde van de Nederlandse Leeuw.
In 2016 Bakker founded the MASieraad foundation together with Ruudt Peters, Ted Noten, Liesbeth den Besten, Liesbeth in't Hout and Leo Versteijlen. MASieraad aims at the promotion of jewellery in a broad sense, through the organisation of education, workshops, lectures, exhibitions, and publications. MASieraad's first project started at the Sandberg Institute in Amsterdam, as a temporary experimental 2-years Master called Challenging Jewellery. In 2020 MASieraad founded the international two-years Masterclass Program MASieraad Hasselt – Amsterdam, or MASieraad H-A.
Exhibitions (selected)
2023 The Love of Art comes first. Art & Project', Kröller-Müller Museum, Otterlo, NL
2023 Droog 30 - Design or Non-Design?, Milan & Rotterdam, Triennale Milano & Nieuwe Instituut, IT & NL
2023 Irma Boom: Kunst + Boeken, Rijksmuseum
2023 'FIAT BULB. La sindrome di Edison', Salone del Mobile, Milan, IT
2022 / 2023 '1:? - De modellen van Gijs Bakker', Design Museum Den Bosch, NL
2022 Gijs Bakker, 'Charished Double', CHAxART, Amsterdam
2022 Gijs Bakker, 'GB Lounge Chair' - Karakter at Cassina show room, Milan, Salone del Mobile, IT
2021 Gijs Bakker, 'Balance 4 point 0', Carpenters Workshop Gallery, Paris, FR
2021 Gijs Bakker, Design Week Budapest, Budapest, HU
2020 'Gijs Bakker & K. Schippers: Basics', Huis Sonneveld, Rotterdam, NL
2019 'Meeting the future', SxV Museum of Modern Art, Qingdao, CH
2019 'Shining on the stage - Dutch spirit', New Center of Contemporary Jewellery and Fashion Culture (NoCC) in Shanghai, CH
2018 TraditionNow, World Historical & Cultural Cities Expo, Nanjing, CH
2017 'MEDUSA - bijoux et tabou', Musee d'Art Moderne de la Ville Paris, FR
2017 'Black to White', BorzoGallery, Amsterdam, NL and Caroline Van Hoek, Brussels, BE
2016 'chp...? joyería - un proyecto de Gijs Bakker', Museo Franz Mayer, Mexico City, MX
2015 'Ode aan de Nederlandse mode', Gemeentemuseum, Den Haag, NL
2015 'Design Derby - Netherlands - Belgium (1815 - 2015)', Boijmans Van Beuningen, Rotterdam, NL
2015 'Gijs Bakker: The Holes Collection', Atelier Courbet, New York, USA
2014 / 2016 'Jewellery & Design', Museo del Gioiello, Vicenza, Italy
2014 / 2015 'Van Stoelen Bezeten', Het Gorcums Museum, Gorinchem, NL
2014 'Gifts from America: 1948–2013. Modern and contemporary applied arts from the Hermitage Museum Foundation (USA)', Hermitage, St. Petersburg, Russia
2014 'Le Labo des Héritiers', Grand Hornu Images, Hornu, Belgium
2014 Presentation of works together with chp...?, Designblok, Prague, CZ
2014 'De Show van Gijs+Emmy' ('The Gijs+Emmy Spectacle'). Stedelijk Museum, Amsterdam, the Netherlands
2014 'Multiple Exposures: Jewelry and Photography'. The Museum of Arts and Design, New York, USA
2014 'Triple Parade'. Ubi Gallery, Beijing and OCT Loft, Shenzhen, China
2013 Solo exhibition, Design Miami/ fair, with projects Go for Gold and Girl with the Pearl
2013 chp...? Global Identity, Salone del Mobile, Ventura Lambrate, LAP, Milan, Italy
2012 HAN Gallery and Chi ha paura..?, Salone del Mobile, Ventura Lambrate, Milan, Italy
2010 / 2011 Yii, Triennale Design Museum, Milan, Italy
2010 Roomservice Gallery, Barcelona, Spain
2009 Designers on Jewellery: Twelve years of jewellery production by Chi ha paura...? publication & travelling exhibition
2008 Real? exhibition at Gallerie Ra, Amsterdam & Gallery Deux Poissons, Tokyo
2007 Project "Rituals", jewelry collection by Chi ha paura…?, together with SM's 's-Hertogenbosch, presented in Milan, during International Furniture Fair.
2005 Retrospective exhibition 'Gijs Bakker and Jewelry', SM's, Stedelijk Museum 's-Hertogenbosch, 's-Hertogenbosch, the Netherlands
'Shot' and 'Holysport' Gallery Deux Poissons, Tokyo, Japan
2003 'Holysport' and 'I don't wear jewels. I drive them'. Galeria Hipotesi, Barcelona, Spain
2001 'I don't wear jewels, I drive them'. Galerie Ra, Amsterdam and KunstRai, Amsterdam, the Netherlands and Gallery Helen Drutt, Philadelphia, USA
1998 'Holysport / Shot'. Galerie Ra, Amsterdam and KunstRai, Amsterdam, the Netherlands
1995 'Shot-project' (for the occasion of the Prins Bernhard Fonds Prijs). Galerie Ra, Amsterdam, the Netherlands
1993 'Gatenproject' ('Holes project'). Galerie Ra, Amsterdam, the Netherlands
1989 'Solo voor een solist' ('Solo for a soloist'). Retrospective exhibition, Centraal Museum, Utrecht, the Netherlands and Helen Drutt Gallery, New York, USA
1977 'Overzichtstentoonstelling Gijs Bakker, meubels en verlichting' ('Retrospective exhibition Gijs Bakker, furniture and lighting') (together with Bob Bonies and Benno Premsela). Gemeentelijke Van Reekumgalerij, Apeldoorn, the Netherlands
1967 'Sculpture to wear by Emmy van Leersum and Gijs Bakker'. Ewan Philips Gallery, London, UK
1967 'Edelsmeden 3', group exhibition, Stedelijk Museum, Amsterdam, the Netherlands
1965 'jan montijn', Galerie Swart, group exhibition with Jan Montijn, Emmy van Leersum, Gijs Bakker a.o. Amsterdam, the Netherlands
Awards
2018
Royal distinction of Knight in the Order of the Netherlands Lion
2012
The Best International Jewellery Designer, Andrea Palladio International Jewellery Awards
2011
Lifetime Achievement Award, Sanoma Living Awards
2007
Benno Premsela Award (for his work with Droog)
1996
Ra Award 1996
1995
Prins Bernhard Cultuurfonds Prijs voor Toegepaste Kunsten
en Bouwkunst
1995
Nomination Rotterdam Design Prize
1994
Nomination Rotterdam Design Prize
1988
Françoise van den Bosch Prize
1968
Gold and Silver Medal Jablonec
1965
2e Van den Rijn-prize for sculptures