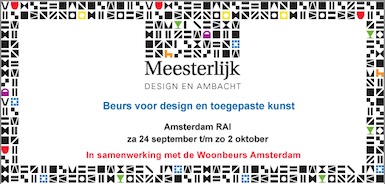 Chi ha paura...?(CHP) (Italian for 'Who is afraid of...?') makes conceptual designer jewellery by international (jewellery) designers. CHP was established in 1996 by Gijs Bakker (NL) and Marijke Vallanzasca (IT).
At Meesterlijk, a yearly event focussing on high-end design craft CHP presents itself with work by Campana Brothers, Gijs Bakker, Konstantin Grcic, Marcel Wanders, Tord Boontje, Ruudt Peters, Studio Job, Ineke Hans and Gina Hsu.
All designs from the CHP collection are made by jewellery maker and technical brain Jan Matthesius. Together with Pauline Barendse they also present their proper collection at Meesterlijk by the name: Dubbelop.
Meesterlijk,
RAI Amsterdam - 24 September till 2 October 2011.
For more information visit the
website
.