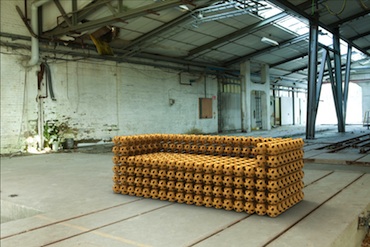 Yii to bring out new concepts by Taiwanese and international designers exploring an 'every day life' synergy between crafts and design. April 12-17 2011, Triennale di Milano.
Daily life
The Taiwanese design brand Yii carries forward the translation of crafts and traditions of its country into the language of contemporary design. This year Yii presents a new way of expressing its innate culture through objects of everyday life. Recognizable elements of daily rituals 'of the street' are interpreted as design objects and refined by technically skillful crafts. They shape a uniquely flavored collection unmistakably belonging to its native tradition. 'Made in Taiwan' obtains a new authentic and deepened meaning.
Taiwanese designers reflect on concepts of daily life in items like disposable, porcelain, fast-food crockery, mirror frames inspired on ubiquitous motorcycles, a modular sofa consisting of 999 hand woven bamboo balls and the newest generation of in-/outdoor lanterns.
International designers
A small group of internationally renowned designers, invited by Yii, will demonstrate harmonious interpretations of Taiwanese culture in the context of their signature way of working. Milan will see a reinterpretation of the "43 chair" by Konstantin Grcic and a new chair by Nendo, for which the techniques for weaving bamboo have been applied by using steel.
The exhibition design is done by Japanese design agency Nendo. Making traditional Taiwanese craft transgress into modernity by abstracting and minimalizing it into a light and airy construction composed of mass produced objects, with a streetview backdrop. Also resembling a bamboo forest giving people a sense of hovering between nature and man-made beauty...


Participating designers: Helen Chen, Yu-Jui (Kevin) Chou, Chung-tong Ho, Chung-Miao Hsu, Gina Hsu, Po-ching Liao, Camo Lin, Hsiao-ying Lin, Wan-shan Lin, Idee Liu, Rock Wang, Pili Wu, design studio Nendo, Konstantin Grcic.
Creative director: Gijs Bakker
Exhibition design: Nendo

Yii –
www.yiidesign.com
Yii - reads like [i] - derives from "yi", which means in Taiwanese philosophy "change and transformation" and is believed to be the underlying law behind Nature. The brand was conceived by the Taiwan Craft Research Institute. It aims to transform traditional Taiwanese crafts in the contemporary context through design. The Taiwan Craft Research Institute is an agency under the Council for Cultural Affairs of the Taiwanese government. The Institute promotes unique local crafts, design, innovation, and the development of the culture industry.

Initiated by Taiwan Craft Research Institute
Creative director: Gijs Bakker
TRIENNALE DI MILANO, 1st floor. Viale Alemagna 6, 20121 MILAN.
Open April 12-17 2011, from 10:30 till 22:00.
For further information, interview requests and high resolution images please contact
Olga Zhuravleva at +34 633 75 38 52, +39 347 351 9334 (April 11th-18th) or pr@yiidesign.com